Safeguarding Basic Awareness Training with Prevent (2020)
Everyone working with children in the UK needs to complete basic awareness training in safeguarding
Updated for 2020. Learn about or refresh your knowledge of Basic Awareness level safeguarding with this new course prepared for 2020.
---
What is the course?
This course provides core safeguarding information in 4 sections and an introduction. It is co-accredited by EnglishUK, the professional association of UK language organisations, because it is written specifically for people working with English language teaching (ELT) organisations. As per our agreement with English UK, EUK member centres will be given preferential pricing, please contact us or English UK for more details.
The 2019 Gallery Teachers online course received very high customer satisfaction scores with over 83% rating it Very Good or Excellent. This was identical to the 2018 course. The new 2020 course has been revised to include video delivery, which was one of the features most requested by course takers in 2019. We will expand on different delivery formats in future courses.
Why is this course important for people working with ELT organisations in UK?
Every ELT organisation with students under the age of 18 has a legal 'duty of care' to safeguard those students. Everyone working with the organisation needs to understand safeguarding and their 'duty of care' responsibilities. The training starts here with this specially designed course.
The course has four sections (some with sub-sections), including safeguarding and how ELT organisations do it, child protection and recognising and responding to abuse. The course also includes information about the government 'Prevent' strategy and why that is part of safeguarding. Each section has quiz questions to check understanding
There are many UK laws connected to safeguarding; the main ones are covered in the training. Knowing what is acceptable in law for children and for adults is essential, especially because ELT has international students and group leaders who may not be familiar with UK.
Safeguarding is one of the most important things we do for children; it has to be done properly.
Who should take this course?
Every adult who works with an ELT organisation taking students under the age of 18, for example; all staff, homestays, group leaders and agents. Anyone who needs to understand safeguarding and what it means for ELT organisations.
This course is designed for those who work in ELT organisations; however, the same safeguarding principles apply to anybody who works with children and/or their families.
What are the learning outcomes?
By completing this course you will have core safeguarding information. On completion, you will receive a dated, online certificate issued jointly by Gallery Teachers and EnglishUK demonstrating your Basic Awareness Safeguarding for ELT, including 'Prevent'.
Can I buy the course in bulk?
Bulk discount, sold in blocks of 10, is available for Schools and organisations who require a large number of courses:
10 to 50 @ 8.99 per course
51 to 100 @ 7.99 per course
100+ @ 6.99 per course
When making a bulk purchase, we will invoice you for the number of courses required. Upon payment you will receive a special pre-paid code that is only known to your organisation, which will allow users to use the pre-paid code to pay for the course. For added security we can optionally limit the pre-paid code to be used only by your white-listed e-mail address or domain (i.e. anyone with @galleryteachers.com email or a specific e-mail list).
If you are a school or organisation that requires a bulk purchase or would like to use our certificate validation service, please contact us on membership@galleryteachers.com
What if I need more advanced levels of training?
This course is suitable for those who require a basic level of safeguarding understanding (formerly level 1). Information for advanced level courses can be found on English UK's website
---
About the Author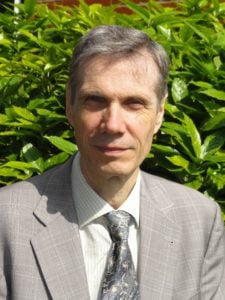 Nigel Heritage has been involved in safeguarding children for over 40 years, since he first trained as a teacher of children with learning difficulties. He has dealt with many different safeguarding situations in his career which has included working in the UK state sector, in ELT overseas and in UK, managing junior summer programmes and for the last 15 years, training.
Nigel is one of the leading safeguarding consultants and trainers for ELT in the UK and has worked a lot with EnglishUK. His focus is on international student welfare, particularly safeguarding young learners. Nigel believes safeguarding children is one of the most valuable things we do for international students in UK; it is very important that we get it right.
Basic Safeguarding and Prevent