TEFL Certification Courses > Ofqual Regulated Level 3
What is the Ofqual Regulated Level 3 TEFL Course
---
The 220-Hour Level 3 Certificate in Teaching English as a Foreign Language (TEFL) Course is an Ofqual regulated internationally recognised TEFL / TESOL qualification accepted by employers around the world. In addition to Core Modules, it also includes live sessions, personalised feedback, assessed lesson plans and lesson activities as well as an examiner-marked final assessment.
The course is 100% self-paced and it will provide you with solid fundamental knowledge in teaching English as a foreign language, including how to use basic teaching techniques as well as how to plan effectively and select and design materials for your students.
The content of the course is dynamic and relevant, with live lessons allowing you to experience teaching strategies in action. These teaching videos are building blocks to prepare you for the real teaching experience.
Be aware that most TEFL courses you find online are NOT regulated or recognised at all. While a few are "endorsed" by an Ofqual regulated organisation, this is not the same as a regulated course.
You can check for Gallery Teachers or other providers on the Ofqual Registers, if you can't find it, then chances are the course is not regulated.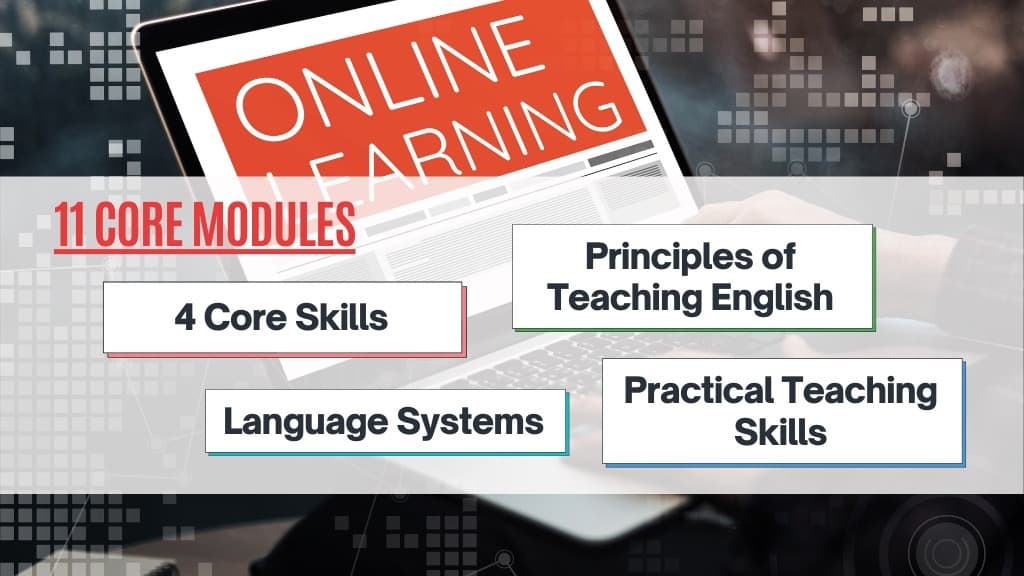 The 180 Hour Certificate in Teaching English as a Foreign Language (TEFL) Course consists of the 11 Core Modules, covering every key area of teaching.
Reading, Listening, Writing, Speaking (4 core skills)
Grammar, Lexis, Functional Language, Pronunciation (Language Systems)
Lesson Planning, Classroom Management (Practical Teaching Skills)
The Gallery Teachers 20-hour Language Awareness & Grammar Course is included free as an introduction to grammar rules and terminology. This course will boost your confidence and pre-course knowledge, by raising your language awareness.
You will receive one year of access to the Gallery Teachers TEFL Workshop Library that includes over 100 recorded webinars and live sessions delivered twice weekly, with some workshops designed specifically to supplement the different Core Modules, while others will help you develop beyond the course.
If you want to make a smaller initial payment, you can take the 180 Hour Certificate and upgrade your qualification later.
Course Specifications
---
Title of Award
telc Level 3 Certificate in Teaching English as a Foreign Language (TEFL) (Gallery Teachers)
Qualification ID
603/7120/1, view the qualification on the Ofqual register.
Qualification Level
Regulated Qualifications Framework RQF Level 3
European Qualification Framework Level Level 4
Credits
16
Total Qualification Time
220 Hours*
Awarding Institution
telc
Teaching Institution
Gallery Teachers
Collaboration
telc
Method of Delivery
E-Learning, Online Workshop, Online Tutorial
Grading Type
Pass/Fail
Assessment Methods
Coursework, E-assessment, Multiple Choice Examination, Oral Examination, Portfolio of Evidence, Practical Demonstration/Assignment, Task-based Controlled Assessment, Written Examination
Maximum Time for Completion
1 Year
*Include 168 Hours of Mandatory Training and 72 Hours of Optional Workshops.
Course Requirements
---
The 220-Hour course assumes no prior teaching experience and is most suitable for new teachers who want to start off their teaching careers. We also strongly believe that the course will be of great value to those with some teaching experience who would like to hone their skills.
The qualification does not require candidates to have a degree. However, we require non-native speaker candidates to have a minimum of CEFR (The Common European Framework of Reference for Languages) B2 level of English.
Non-native speaker candidates who do not hold a certificate of language proficiency will have to attend a telephone interview with a TEFL adviser and may be asked to submit an essay in order to assess their level of language ability.
If you are uncertain that you will be able to meet the language proficiency requirements, we recommend you take the 180 Hour TEFL Certificate first, you will be able to upgrade your qualification later with us.
FAQ
---