Turn your knowledge into action
The course will teach you not only how to use basic teaching techniques, how to plan effectively and how to select and design materials for your students, but it will also put your teaching skills to the test in a real classroom.
---
Assessed teaching practice and observations
Study anytime, anywhere with self-paced interactive learning and live online sessions featured in the Level 3 certificate plus:
Observed and assessed teaching practice
Guided peer-observations and observations of experienced teachers
---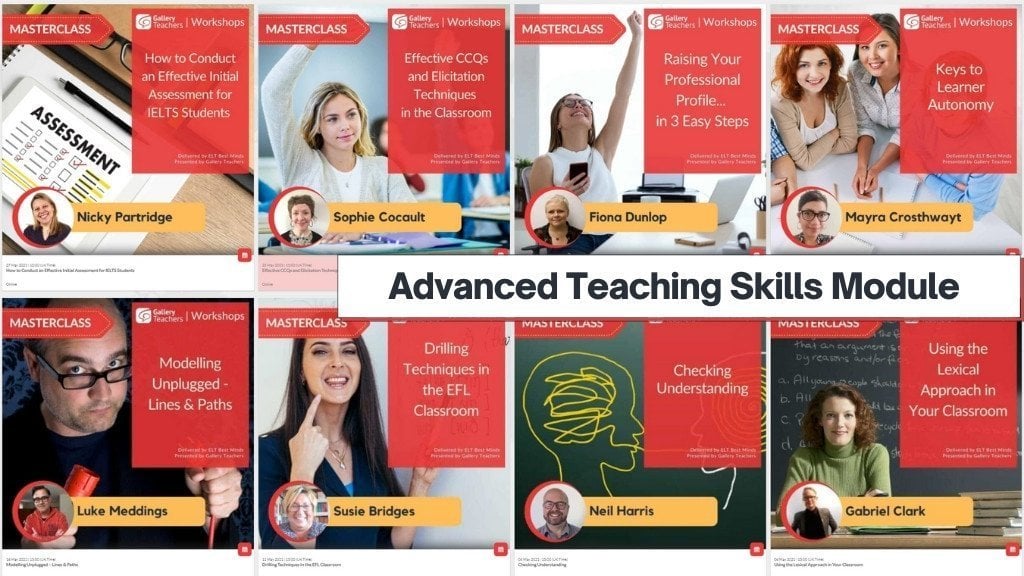 Above and beyond the Core Modules
Eight hours of fully-integrated workshops in the Advanced Teaching Skills Module and the final assessment. Observation guidelines as well as pre-, while- and post-watching tasks and reflections, will help you further your knowledge in the theory of teaching and learning.
---
A true CELTA equivalent
You will find Gallery Teachers courses on the Ofqual register. Our level 5 course includes real-life teaching practice, making it equivalent to CELTA. Receiving your qualification from Gallery Teachers give you the assurance that your achievement is real and authoritative.
---
telc and Gallery Teachers have 77 years of combined experience in language teaching, learning and assessment. Very few TEFL courses you encounter online will be as accredited and recognised, so if you are looking for a qualification that can get you into your dream job, then look no further.

Thomas Jones – ELT Trainer and Consultant
UK, Europe and Beyond – An Unique Partnership that Benefits Learner
Our TEFL courses are provided in partnership with telc. telc (The European Language Certificates) is a non-profit awarding body regulated by Ofqual – the UK government department responsible for qualification, examinations and assessments
telc currently offers more than 100 different examinations in 10 languages and cooperates with more than 2,500 telc partners in 30 countries worldwide.
---
Why choose the Ofqual regulated level 5 TEFL course?
This Level 5 Certificate in Teaching English as a Foreign Language (TEFL) Course is an Ofqual regulated internationally recognised TEFL / TESOL and CELTA equivalent qualification, accepted by employers around the world.
What sets the Level 5 course apart from courses offered by other TEFL providers is the inclusion of real-life observed teaching practice – a requirement in order for a qualification to be considered CELTA equivalent. You will also benefit from regular tutorials with personalised feedback, assessed lesson plans and examiner-marked final assessment.
Together with telc, we were able to design market-leading courses and qualifications that deliver a blend of task-based learning, live tuition and robust assessment. It will equip you with all skills needed to teach English anywhere in the world and provide evidence of your accomplishments!
---
---
Course Specification
Title of Award
telc Level 5 Certificate in Teaching English as a Foreign Language (TEFL) (Gallery Teachers)
Qualification ID
603/7839/6, view the qualification on Ofqual register.
Qualification Level
Regulated Qualifications Framework RQF Level 5
European Qualification Framework Level Level 5
Credits
30
Total Qualification Time
279 Hours
Awarding Institution
telc
Teaching Institution
Gallery Teachers
Collaboration
telc
Method of Delivery
E-Learning, Online Workshop, Online Tutorial, Online Teaching Practice
Grading Type
Pass/Fail
Assessment Methods
Coursework, E-assessment, Multiple Choice Examination, Oral Examination, Portfolio of Evidence, Practical Demonstration/Assignment, Practical Examination, Task-based Controlled Assessment, Written Examination
Maximum Time for Completion
1 Year
---