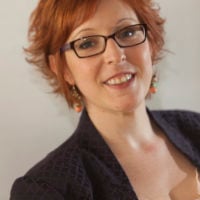 Christina Rebuffet
Since 2004, Christina Rebuffet has been helping busy professionals learn to communicate better and feel more at ease in English. She is based in France and her mission is to get the entire country's English level up, thanks to both in-company and online training programs.
She has presented at numerous conferences for English teachers in England, France, Poland, Hungary, Spain, Germany, and Italy. She is also part of the independent publishing cooperative for English teachers, the round. In 2014, she co-authored the e-book Experimental Practice in ELT: Walk on the Wild Side with Germany-based trainer Jennie Wright. She also edits the TESOL France magazine Teaching Times (for teachers) and contributes to the magazines Go English! and English Now (for learners of English).
She created the YouTube channel Speak Better, Feel Great TV in 2015, where viewers can find short videos to help learners communicate better in business situations like job interviews, conf calls, and social conversations. Her videos also offer insights into doing business with Americans and improving skills such as pronunciation, speaking, and comprehension.
Posts by Christina Rebuffet:
Describing Your Work Experience
27th November 2015
"We Mean Business" gives busy Business English trainers ready-to-use videos and accompanying exercises inspired by the professional worl [...]
Read More
Teaching / Teaching Business English
Your Personal Branding Statement
20th October 2015
"We Mean Business" gives busy Business English trainers ready-to-use videos and accompanying exercises inspired by the professional worl [...]
Read More
Teaching Business English