TEFL Certification Course
TEFL Certificate Core Modules
---
Course Fee: £349
---
Open for Beta Evaluators ONLY, visit the course homepage for more information
---
Overview
Gallery Teachers TEFL certificate course is an online teaching methodology course that will help you take your teaching career off the ground, and allow you to join the Gallery Teachers community of newly qualified and experienced English language educators from around the world. 
This 180 hour course has been written by a collaborative team of experienced CELTA trainers and offers quality training delivered in a highly interactive way. The course is 100% online but it brings the theory to life by providing opportunities to observe real teachers and students in action. 
This course is suitable for native and non-native speakers. There is no set start date and once you have registered, you can complete it at your own pace.
| | |
| --- | --- |
| | 180 hours of high quality training content |
| | Written by CELTA trainers in consultation with leading industry employers |
| | Official certificate issued by internationally reputed Gallery Teachers |
| | Delivered by British Council accredited English language school |
| | Interactive learning and multi-layered assessments |
| | Multimedia delivery including video, audio, photo and text |
| | Online discussion forums to enhance peer to peer learning |
| | Supported by online tutors and the Gallery Teachers community |
Features
Activity Based Learning
The entire training content is activity based so you 'learn by doing'. All individual tasks have answers provided, and there is an end-of-lesson input commentary, summarising what you have studied in each lesson to help you organise your knowledge. It is important that you attempt all tasks before checking answers as this will allow you to process information as well as monitor your own progress. 
Downloadable Material
All training content can be downloaded as worksheets for your future reference to support you after you have completed the course. 
Online Tutor 
Throughout the course, you will receive personalised feedback and two short progress reports written by your assigned personal tutor. Your online tutor will mark your assignments and help you stay on top of your work.
Official Certificates
One you have completed the course, you will receive an official downloadable PDF certificate. A FREE hard copy certificate printed on our secure certificate paper is also available upon request (subject to standard courier / postage charges).
Content
The course consists of eleven Modules and covers ALL aspects of EFL teaching, including language skills and systems, lesson planning and classroom management. 
Each Module is divided into ten to fifteen individual lessons and includes explanatory videos, audio recordings from experienced teachers and classroom observations. This means that you will have an opportunity to observe real TEFL lessons and listen to senior teachers sharing their ideas, in order to make your learning experience more authentic, meaningful and engaging. 
List of Modules
Assessment
There are two forms of assessment on the course that will help you assimilate what you are learning and measure your progress: 
end-of-lesson and end-of-module assessment (typically short quizzes in the form of multiple choice questions with answers provided)
written assignments assessed against specific criteria (writing tasks, including designing your own teaching activities assessed by your online tutor)
There is no final exam at the end of the course but you will be required to submit a final assignment in the form of a complete lesson plan.  
You will need to achieve a total score of 75% to pass the course.
Benefits
Gallery Teachers Membership
Gallery Teachers is an international EFL organisation with a global network made up of EFL teachers, language professionals, schools and institutions.
Completing your GT TEFL Certificate will automatically grant you Associate Membership (AmGT) and all of the membership benefits offered to our registered members which include:
International Umbrella Contractor Services
International Payment & Exchange (Coming Soon in 2021)
Monthly Newsletter
Membership Certificate
Online Articles and Materials
Local Group Meetings and Workshops
Discounts on Major Annual Events and Conferences
Free Webinars
Discounts on Gallery Teachers Study Travel Destinations and Services
Access to Publishers' Materials
Access to Jobs
You can broaden your job prospect with Gallery Teachers.
Gallery Teachers offers recruitment services to some of the best EFL organisations in the world. We connect English Language professionals, schools and students with each other to find the perfect match.
Furthermore, Gallery Teachers is also a principle organiser for teacher exchange programme to countries such as China and Italy. This programme is perfect for those who would love to travel and teach in different locations and to experience different cultures.
Lastly, you can always upload your resume online and apply to the hundreds of live jobs on our website.
Online EFL Community
Join our Facebook group and connect with 6000 + like-minded colleagues from all over the world.
Affiliate Programme
Our Affiliate Programme is where great minds come together to create innovative training solutions for TEFL communities from around the world. 
Becoming an Affiliate
If you are a TEFL influencer, blogger, TEFL trainer, teacher training provider or an EFL institution, our affiliate programme is a simple way to ensure the younger EFL professionals whom you work with receive the best possible training at discounted price.
For more information please contact membership@galleryteachers.com.
Publishing
Gallery Teachers is looking for TEFL trainers, reputable schools and organisations to collaborate and deliver a wide range of courses to learners.
We are interested in e-learning publishing in the following areas:
Optional addon to the Gallery Teachers' TEFL certificate course
CPD training and courses
Other specialist courses
We work with content writers to ensure the e-learning courses meet our required standards and we take care of all the technical aspects of online course delivery so the author can just focus on creating a great course for the learners, including:
Voice and audio recording studio
Course delivery and payment platform
HTML coding
Help to develop automated and manual online course assessment strategy
Sales and marketing
We offer industry leading royalty scheme to the course authors. If you are interested to work with us, please contact us on editorial@galleryteachers.com with your ideas.
We have created this free online course to help you to learn more about how our e-learning platform operates.
Gallery Teachers has been a supporter and contributor to the global English language teaching community for 25 years
Being an EFL teacher can be an unforgettable experience that allows you to travel to all corners of the world, Gallery Teachers is here to help you in every step of that journey!
TEFL Certificate Add-on Modules
When choosing the next steps in your career as an EFL Teacher, it's important that you get the right foundation blocks to help you succeed. These add-on courses are entirely self-paced, meaning you can fit study around your life in a way that works best for you.
---
This add-on module provides you with the vital knowledge of English grammar and explains it in a clear and simple way. We always recommend you to take the grammar module as early as possible. Remember, you can't teach something that you don't know. The Language Awareness and Grammar Module is provided to you completely free of charge.
Launching end of Oct 2020
---
Teaching young learners can be challenging but extremely rewarding at the same time. If you are looking for work opportunities in summer camps, primary or secondary schools or language schools, this is the right module for you. Gallery Teachers has over 25 years of experience in working with young learners and our knowledge in this field is second to none.
Coming Soon
---
Teaching English online is an excellent alternative to teaching abroad. Nevertheless, the flexibility, comfort and freedom of online teaching also presents many challenges that could overwhelm an unprepared teacher. If you are interested to teach English online, or wonder how to make your online classroom interesting and fun, then this is the right module for you.
Launching end of Nov 2020
What does other EFL experts say about our course?
"I did my first TEFL course 40 years ago. I didn't realise then the career, travel and friendship doors it would open for me. I can highly recommend the Gallery Teachers TEFL course to you. Time to start your own adventure."
---
Mark has a wealth of experience having worked on English language holiday courses for over 40 years. He holds many qualifications including a Masters Degree in Modern Language Teaching. He has written a number of EFL books including 'Relay 3' which is a successful and innovative book written especially for English language short courses, and the 'Global Young Leaders Organiser'. He also designed the Course and Vocabulary Organiser which is given to every student who attends the Millfield English Language Courses where mark is the Director. Apart from his work at Millfield, Mark is also an examiner for Trinity College London and is currently Chair of English UK South West.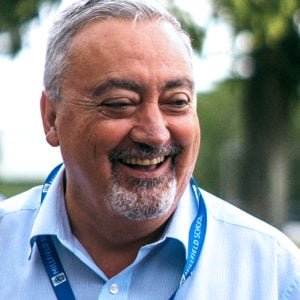 Mark Greennow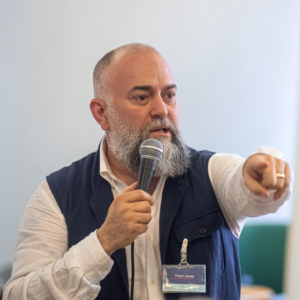 Thomas Jones
"I have been working with Gallery Teachers to deliver teacher training in Europe and Middle East for many years, this course crystallise all of the important TEFL knowledge in a simple interactive package. Superb!"
---
Thomas Jones has lived in more than a dozen countries and delivered training in over 70. He is principal of an international college in the summer, teaches at universities and schools around the world and is invited to speak regularly at global conferences year round. He runs his own training company and is a consultant for Telc, and others.
… The Gallery Teachers 180-hour Online TEFL Course, which is the first in a series of CPD training to EFL Professionals, will not only give you the start you need, but will enable you to travel the world and live abroad as a TEFL qualified teacher…
… Working together with KKCL English – a reputable British Council Accredited school in London, our team of experienced EFL professionals ensure that everything you learn is essential and beneficial to your future career in teaching English as a foreign language…
… Our course utilises interactive learning, with multimedia delivery of authentic materials, including in-class demo lessons videos, informational animations and videos, real-life audio recordings, images, text, tasks and assessment…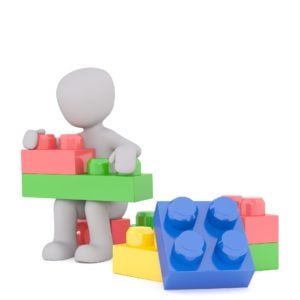 Comparison between GT and other TEFL courses
i-to-i
TEFL org uk
TEFL Academy
TEFL UK
Price
£349
£795
£449
£360
£229
Always on "Discount"
Course Length
210h
300h
168h
198h
220h
Dedicated FREE Standalone Grammar Knowledge Module
Years of Experience
25 years
8 years
12 years
8 Years
8 Years
British Council Accredited English Language School
Member of English UK
Member of Quality English
Member of ICEF
Ofqual Regulated
Direct Recognition Pending
Gatehouse Awards Ltd
Training Qualifications UK Ltd
Qualifi Ltd
Developed with Employers
Endorsed by Reputable TEFL Trainers
Online Tutor Support
Erasmus+
PIC – 934797149
Time to Complete
12 months
10 weeks
6 months
6 months
90 days
So what are you waiting for? Get on board!
Gallery Teachers is a UK based global network made up of EFL teachers, language professionals, schools and institutions.
Working closely with English language schools, industry associations and the EU's Erasmus+ (previously Comenius, Leonardo Da Vinci and Grundtvig) programme, we have been delivering EFL and TEFL (Teaching English as a Foreign Language) courses, workshops, conferences and webinars at home and overseas for the past 25 years.
Having had experience with many ITT (initial teacher training) courses, we feel that few online and blended learning TEFL courses deliver engaging activity based learning experience, with many online courses only offering text-based input and lacking interactive multimedia delivery.
Gallery Teachers TEFL course not only offers learner the best contents, it is also one of the most recognised course in Europe and Asia thanks to our extensive footprint in the EFL industry and business operations around the world.