BASIC

180 Hours The 180 Hour Certificate in Teaching English as a Foreign Language (TEFL) Course consists of the 11 Core Modules, covering every key area of teaching.
100% Online Learning Study at your own pace with 24/7 access to our online learning platform.
TEFL Certificate Mapped to RQF Level 3
Free Language Awareness & Grammar Course The Gallery Teachers 20-hour Language Awareness & Grammar Course is included free as an introduction to grammar rules and terminology. This course will boost your confidence and pre-course knowledge, by raising your language awareness.
Typically Completed in 5 to 12 Weeks Completion time depending on daily input hours
2 Masterclasses with Expert Trainers Per Week You will receive one year of access to the Gallery Teachers TEFL Workshop Library that includes over 100 recorded webinars and live sessions delivered twice weekly, with some workshops designed specifically to supplement the different Core Modules, while others will help you develop beyond the course.
1 Year Access Time
Find Out About Sponsorship
Upgradable This course contains the same high-quality material as the level 3 Ofqual regulated course, allowing you to upgrade to the Level 3 Ofqual regulated qualification seamlessly.

Best for teachers looking to teach EFL while travelling the world or want to complete their TEFL training in the shortest time possible.

STANDARD

220 Hours
100% Online Learning Study at your own pace with 24/7 access to our online learning platform.
Ofqual Regulated Level 3 TEFL Certificate
16 Credits
Free Language Awareness & Grammar Course The Gallery Teachers 20-hour Language Awareness & Grammar Course is included free as an introduction to grammar rules and terminology. This course will boost your confidence and pre-course knowledge, by raising your language awareness.
Typically Completed in 6 to 16 weeks Completion time depending on daily input hours
2 Masterclasses with Expert Trainers Per Week You will receive one year of access to the Gallery Teachers TEFL Workshop Library that includes over 100 recorded webinars and live sessions delivered twice weekly, with some workshops designed specifically to supplement the different Core Modules, while others will help you develop beyond the course.
1 Year Access Time
Ofqual (UK Government) Recognised Regulated qualifications from a reputable provider give you the assurance that your achievement is real and authoritative. The money you have invested will be returned many times over as employers always prefer these qualifications over non-accredited courses.
Certificate Issued by Gallery Teachers and TELC
Credit Transfer You can transfer your earned credit to our Level 5 Ofqual regulated qualification.

ADVANCED

320 Hours
100% Online Learning Study at your own pace with 24/7 access to our online learning platform.
Ofqual Regulated Level 5 TEFL Certificate
32 Credits
Free Language Awareness & Grammar Course The Gallery Teachers 20-hour Language Awareness & Grammar Course is included free as an introduction to grammar rules and terminology. This course will boost your confidence and pre-course knowledge, by raising your language awareness.
Typically Completed in 8 to 24 weeks Completion time depending on daily input hours
2 Masterclasses with Expert Trainers Per Week You will receive one year of access to the Gallery Teachers TEFL Workshop Library that includes over 100 recorded webinars and live sessions delivered twice weekly, with some workshops designed specifically to supplement the different Core Modules, while others will help you develop beyond the course.
1 Year Access Time
Personalised Learning with Online Tutorials
Basic Safeguarding Course Essential for working in most Schools
Ofqual (UK Government) Recognised Regulated qualifications from a reputable provider give you the assurance that your achievement is real and authoritative. The money you have invested will be returned many times over as employers always prefer these qualifications over non-accredited courses.
Ofqual Qualification Certificate Issued by Gallery Teachers and TELC
Real-life Teaching Practice While Observed by Your Tutor
CELTA and CertTESOL Equivalent

Best for teachers looking for highest paying jobs anywhere in the world including English majority speaking countries.

*This qualification will be available from 2022
Why Choose Gallery Teachers TEFL Courses
---
Accredited and Recognised
Gallery Teachers TEFL course not only offers learners the best Training content, but it is also one of the most recognised courses in the world, thanks to our extensive footprint in the EFL industry.
Working in partnership with telc, our courses are officially recognised by the UK government accreditation body Ofqual (The Office of Qualifications and Examinations Regulation). This means the courses meet international standards by ensuring that the quality of all training materials as well as assessment processes is of the highest level, and the qualification you obtain at the end of the course is transferable around the world.
Downloadable Material
Training content can be downloaded as worksheets for your future reference to support you after you have completed the course.
Everything You Need In One Package
Each Module is divided into ten to fifteen individual lessons and includes explanatory videos, audio recordings from experienced teachers and classroom observations. This means that you will have an opportunity to observe real TEFL lessons and listen to senior teachers sharing their ideas, in order to make your learning experience more authentic, meaningful and engaging.
Activity-Based Learning
The entire training content is activity based so you 'learn by doing'. All individual tasks have answers provided, and there is an end-of-lesson input commentary, summarising what you have studied in each lesson to help you organise your knowledge. It is important that you attempt all tasks before checking answers as this will allow you to process information as well as monitor your own progress.
Very few TEFL courses you encounter online will be as accredited and recognised, so if you are looking for a qualification that can get you into your dream job, then look no further.
Who is telc and Why Is Our Partnership Important
---
UK, Europe and Beyond
Our TEFL courses are provided in partnership with telc. telc (the European Language Certificates) is a non-profit awarding body regulated by Ofqual – the UK government department responsible for qualification, examinations and assessments
telc (the European Language Certificates) is a non-profit awarding body dedicated to high quality language assessment and certification. telc currently offers more than 100 different examinations in 10 languages and cooperates with more than 2,500 telc partners in 30 countries worldwide.
Complementing language testing, telc offers a continuing education program for teachers as well as outfitting (virtual) classrooms with practical teaching and study materials in German and English.
telc and Gallery Teachers have 77 years of combined experience in language teaching, learning and assessment. Very few TEFL courses you encounter online will be as accredited and recognised, so if you are looking for a qualification that can get you into your dream job, then look no further.

Thomas Jones – ELT Trainer and Consultant
Unique Partnership That Benefit Learners
As the qualification partner for Gallery Teachers TEFL courses, telc's regulated status with Ofqual means that our TEFL courses are approved by the UK government, and the course delivery and assessments are set up to the highest standards.
Together with telc, we were able to design market-leading courses and qualifications that deliver a blend of task-based learning, live tuition and robust assessment. It will equip you with all skills needed to teach English anywhere in the world and provide evidence of your accomplishments!
You can be assured that your TEFL qualification is highly recognised in the UK, EU and beyond.
Twice-weekly trainer-led live webinars

Full access to ELT workshop database

Ofqual (UK Government) recognised qualification

Interactive tasks using guided discovery learning strategy

Multimedia delivery including recorded video and audio

Supported by online tutors, peers and the Gallery Teachers community
Recommended by Pros
---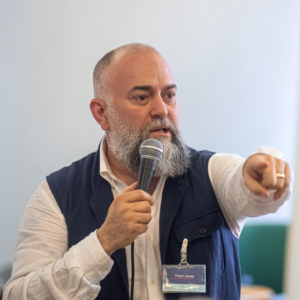 "I have been working with Gallery Teachers to deliver teacher training in Europe and Middle East for many years, this course crystallise all of the important TEFL knowledge in an online interactive package. Superb!"

– Thomas has lived in more than a dozen countries and delivered training in over 70. Teacher, trainer, examiner and long term summer principal of international colleges. He is a guest lecturer at four universities and is invited to speak regularly at global conferences. He runs his own he runs his own consultancy company: Brock Solutions Agency.
---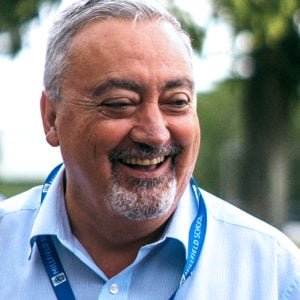 "I did my first TEFL course 40 years ago. I didn't realise then the career, travel and friendship doors it would open for me. I can highly recommend the Gallery Teachers TEFL course to you. Time to start your own adventure."

– Mark has written a number of EFL books including 'Relay 3' which is a successful and innovative book written especially for English language short courses, and the 'Global Young Leaders Organiser'. Mark is the Director of Millfield English Language Courses and is currently Chair of English UK South West.
---
"… I was surprised to see the level of professional content, structure, and trainers, all world-class experts in their field. I was delighted to see that all of this was available at a reasonable price for future teachers looking to make a difference in the field."

– Rob is a teacher, trainer, author, EFLtalks founder, Online Language Center owner, Business Language Training Institute managing partner, worldwide speaker on Business English. IATEFL BESIG Online & Web joint coordinator, Video and Online Coordinator for Visual Arts Circle and co-founder of Independent Authors & Publishers. Nominated for the 2016 British Council's ELTon Award.
---