Happy Halloween Card Game
One of the best things about teaching young learners is being able to have class parties as a way to bring in some culture to go along with language. However, I also feel a little uneasy about taking time away from learning – especially when my workshop schedule means frequent cancelled classes. This year, rather than trying to cut back on celebrating, I decided to use my older students' love of Halloween to stretch their literacy muscles, and to give their creative and critical thinking skills a workout, too.
I let them design and create a card game for all of us to play at the school Halloween party. Even if you don't celebrate Halloween at your school, the project is easily adaptable to any theme or content.
First, they brainstormed Halloween vocabulary. The number of words they remembered from previous Halloween parties was a good reminder that sometimes impractical and infrequent words like monster and mummy are the words students want most to learn! They chose which of the words they wanted to include in their card game and added action cards like Take 2, Change color, Reverse, and Skip. They drew images to match the words, and then worked together to create game rules. Since we had a pack of colored circle stickers in five colors, they decided they wanted to have a matching game similar to Crazy 8s, but matching color or object rather than numbers. I made five copies of each of the cards,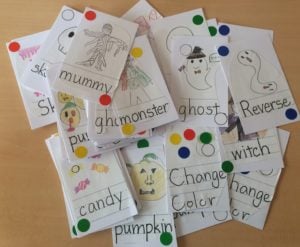 and they went to work gluing images to cards and adding colored stickers.
Students worked on the game over a period of several weeks, as the end-of-class reward for finishing other work quickly. Last week we tested the game, and it was a lot of fun! The students are very excited to teach the younger classes how to play their Happy Halloween card game at our party next week.
Letting students create games is always a great way to incorporate problem solving activities in lessons, and this was no exception. It's also a way to get students using English to do something interesting, to help them see it as a tool rather than simply a subject for study. One more big advantage for me is that my students took care of nearly all of the party preparation this year!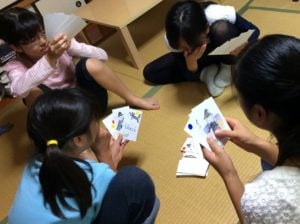 Your students can certainly come up with their own vocabulary and pictures for the game. If you'd like to have the cards my students made, along with the game rules, just go to the download page.
Reader Interactions