Post-me a Compliment – An Icebreaking Activity
"The problem with first impressions is that you can't have second ones".
I don't remember who said that, but it was a wise person, for sure.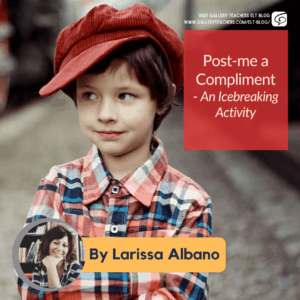 A couple of days ago, Paola, one of my fellow teachers, called me in tears, overwhelmed by her first class with a new group.
I couldn't understand why she was upset so, after cheering her up, when she stopped crying I asked her to tell me about what had happened.
She was so frustrated about her students' behaviour.
She kicked off her first class with a round of 'introduce yourself to the others', but they didn't listen to each other; they didn't listen to her.
Some students even refused to introduce themselves.
It was her first lesson with that class and she had the feeling her students didn't like her.
Truth be told, she wasn't so sure she liked them either…
How can you make sure that you start off on the right foot with a new class? How can students be sure their new teacher and classmates are going to like them?
Why is it important to create a comfortable learning environment where every student feels included, welcomed and loved?
We are social beings, we can't deny it.
'We are known to benefit from friendships in which we both give and receive affection and support' (Williams et al., 2015).
Despite individual differences and needs, it is crucial to feel connected to the group and be sure we are in a safe place where we are respected and esteemed.
As Dörnyei & Murphey (2003) suggest, positive group dynamics and a relaxed classroom atmosphere are essential for successful teaching and learning. 
I couldn't help but inviting Paola to try out an activity which has always worked well in my classes in order to break the ice and create group cohesion.
Post me a compliment
Face-to-face class
What you need: STICKY NOTES, PENS/PENCILS
Procedure: 
The Teacher hands out to each student as many sticky notes as the number of Students in the class.

The Teacher elicits the meaning of the word 'Compliment'.
The Teacher asks the Students to write a compliment for each student on the sticky notes.
The Teacher carries out the activity, too.
The Students can stand up and go around the classroom to stick their sticky notes on the desks of their classmates.
The Teacher monitors and reminds the Students they can only write 'positive things'!
The Students read out their own compliments.
Procedure:
The Teacher gives the Students the code to enter the Padlet board.

As above.
The Teacher asks the Students to type a compliment for each student in the class. The Teacher carries out the activity, too. The Teacher reminds the Students to use the name of their classmates on the top of their posts.
As 5 above.
As 6 above.
During this activity, lots of language is produced by students and it can be used as starting point for your linguistic focus in terms of grammar (e.g. to be, to have) and vocabulary (e.g. adjectives).
---
Choosing the right TEFL course provider can be a tough one.
Take a look at Gallery Teachers TEFL Courses and find the most suitable course for yourself. Never stop learning!
Do you already have your TEFL qualification? Check our available jobs here!
Reader Interactions