Teach English to refugees, get a sponsored TEFL certificate
KKCL English Offers a Scholarships of £250 For Your TEFL Course Tuition if you want to teach English to Refugees. Find out more here!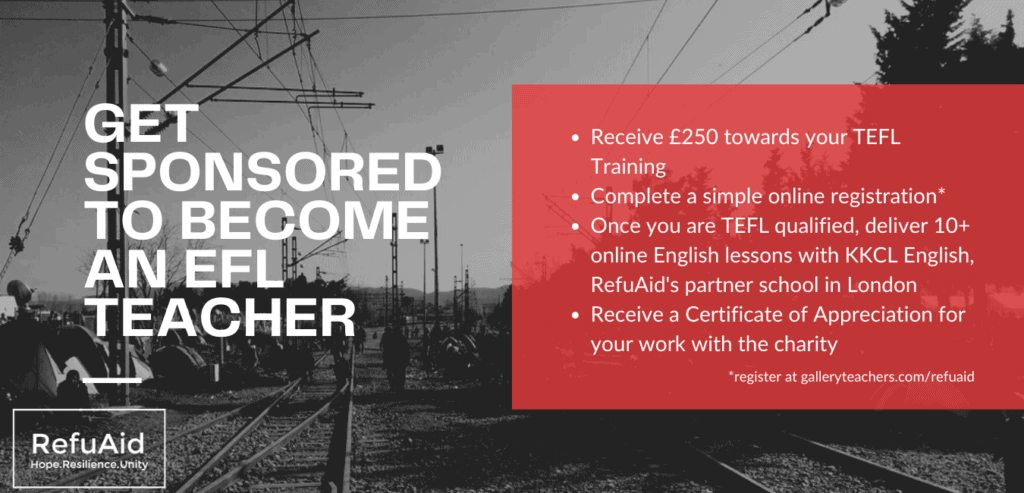 Gallery Teachers is a leading UK-based network of English language teachers, schools, and institutions that offer extensive TEFL (Teaching English as a Foreign Language) and TESOL (Teaching English for Speakers of Other Languages) training courses to people who want to teach the English language to diverse communities around the world.
We work in partnership with TELC (The European Language Certificates) and are officially recognized by the Ofqual (The Office of Qualifications and Examinations Regulation).
TELC is a not-for-profit organization committed to high-quality language assessment and certifications. It offers over 100 different exams in 10 different languages worth over 2,500 TELC partners in 30 countries.
Meanwhile, Ofqual regulates and accredits qualification, assessments, and examination in England.
All of Gallery Teachers' courses meet international requirements related to the quality of the training material as well as the high-level assessment process, and the qualifications you obtain at the end of your course will be transferable all over the World.
Check out our courses here.
KKCL English Offers a Scholarships of £250 For Your TEFL Course Tuition
Our Organization PRO Members are schools, institutions, and companies with a strong interest in sustaining Teachers to develop new TEFL and TESOL projects internationally.
KKCL English is a leading English language teaching school accredited by the British Council.
In an effort to guarantee the opportunity to become an English Teacher to anyone motivated by a strong passion, no matter his or her current financial conditions, age, or location, the London-based organization is currently sponsoring a scholarship of £250 for every student accepted to the program.
In exchange, once you will be a qualified teacher, you will be asked to give 10 hours of online teaching to refugees.
This will also help you to get practical, professional and certified experience as a Teacher.
The entire project is managed by the charity RefuAid, which supports higher education in the United Kingdom.
For people who have been forced to flee their home to escape war and get asylum in other countries, it is essential to get an education; however, they have to face many obstacles, starting with the language barriers.
This is why getting an ESL education is so important for them.
What Does RefuAid Aim To Accomplish?
It is the mission of RefuAid to restore access to:
Employment: The organization seeks to provide employment opportunities in the UK via its loan scheme to asylum seekers in the country.
This can enable these people to resume the careers that they have left behind at their homes with the help of an interest-free loan that covers the cost of getting re-qualified.
Language: Getting access to English as a Second Language (ESL) classes can allow self-expression and allow them to integrate with society.
RefuAid gives asylum seekers an opportunity to access English language courses through the UK and online (ESL and EFL).
Education: Education is one of the most valuable life skills that seem unattainable for people who are forced to flee their homes.
RefuAid hopes to restore access to higher education for these marginalized people, particularly young people, so that they can regain their independence and better serve their communities.
KKCL English is RefuAid's partner school in London.
This sponsored-study project will help teachers to gain valuable experience while working with a leading English Language school in London, and provide them with long-term employment opportunities.
Get Sponsored To Become an EFL Teacher
Once the students get their qualification, they will teach 10+ hours of online English lessons with KKCL English to people who are displaced by war.
As a result, they will get transferable skills and a Certificate of Appreciation for working with a charity.
To get sponsored to become an EFL Teacher, please follow this link.
---
Are you an organization or an institution and want to sponsor one of our projects? Please contact us at

[email protected]

to get a Sponsor Pack or discuss your ideas.