1st Breaking news 2018 – Belarus
Date:
26 Jan 2018–28 Jan 2018
1st Breaking news 2018 Gallery Teachers
Belarus Session Abstracts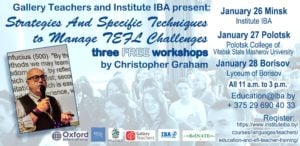 Session One – 90 minutes
Why won't they ….. ?
A look at motivating teenage and young adult students. Motivation is a huge challenge especially when teaching teenagers and young adults.
In this session we will try to identify the causes of poor motivation amongst these age ranges and develop some broad strategies and specific techniques to manage this challenge.
Techniques explored will both take advantage of technology and also encourage teachers to adapt the content of existing course books.
We will look at ways of increasing levels of engagement with both the written and spoken language and with grammar and phonology.
Session Two – 60 minutes
Differentiation in ELT
Putting it into practice. Mixed ability classes are a reality for most EFL teachers and this session will look at the problems and challenges that can be created by such classes and at some practical solutions, both traditional and digital.
Teachers will be asked to apply some of these solutions to their course books and current class settings.
REGISTER: www.instituteiba.by