Work Experience in Camden Town
For the work experience programme, we chose Camden Town as a topic on which KKCL students have been doing research and feel passionately about. Work experience students are able to enter the Camden community, interview people and get a much clearer view and understanding of Camden Town.
The purpose of this for the students is to gather as much information as possible for their presentation at the end of the KKCL work experience programme. Students converse in English with the locals of Camden and develop very interesting conversations with people…
As a language school, we really strive for students to have a better knowledge of English when they leave KKCL. This is just one of the practices we use – instead of simply learning English in the classroom, we create projects where students can learn English in a genuinely fun, interactive and innovative way.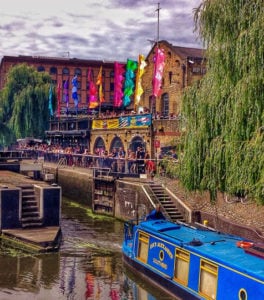 Camden Town was one of London's first craft and antiques markets and retains its original focus as the principal market for crafts for souvenirs. There are more than 28 million visitors that descend on Camden market each year, in order to experience the unique atmosphere of the area. The musical legend that is Prince briefly opened a shop for his fans near the Lock on Chalk Farm Road. The beautiful and talented singer/song-writer, Amy Winehouse, worked on a stall in Camden Town when she was a teenager. Camden Town is famed for its market, a warren of fashion and curiosities by the Regent's Canal.
This veritable haven of counterculture and the funky atmosphere is popular with tourists, teenagers and punks alike. The thriving nightlife scene includes live music in alternative clubs and old-school pubs, and major stars playing at the Jazz Cafe and Roundhouse. Cafes and bars bustle during the day, and the market is open 364 days a year (Christmas Day is the only exception!). Camden Market is also known for the 2 gigantic – yet pretty friendly – chrome robots (one can pass through them to the famous Cyberdog venue for a unique slice of fluorescent futurism…).&nbsp. You can also take a pleasant stroll along the canal to Regent's Park.
Camden isn't just for tourists, though, plenty of Londoners visit Camden to experience that Camden feeling !