Introduction to Organisation PRO
---
Most reputable ELT schools and organisations run regular CPD sessions to ensure their teachers are on top of their profession. The sessions are typically planned, organised and delivered by the school's Director of Studies. This, of course, requires considerable efforts and takes up valuable management time.
In-house CPD normally brings all of your teachers together at the same time, making it harder to tailor your workshop to individual needs, while external CPD is typically expensive and time-consuming to arrange.
With Organisation PRO, you will have peace of mind that your CPD is always available, recorded and certified. We will ensure that all basics are covered so you can focus on the key areas of development that are unique to your organisation.
Our workshops and training are always designed, developed and delivered by top industry professionals.
As an organisation member, we will also provide you with a range of organisation level services such as GDPR Representative Services as well as the ability to control your users and billing in an easy to use web control panel.
Full Organisation Control

Meet Regulatory Requirements

Massive Saving of Time & Money

EU and UK GDPR Representative Service

Premium Listing on ELT Directory

100+ Training and CPD Sessions Per Year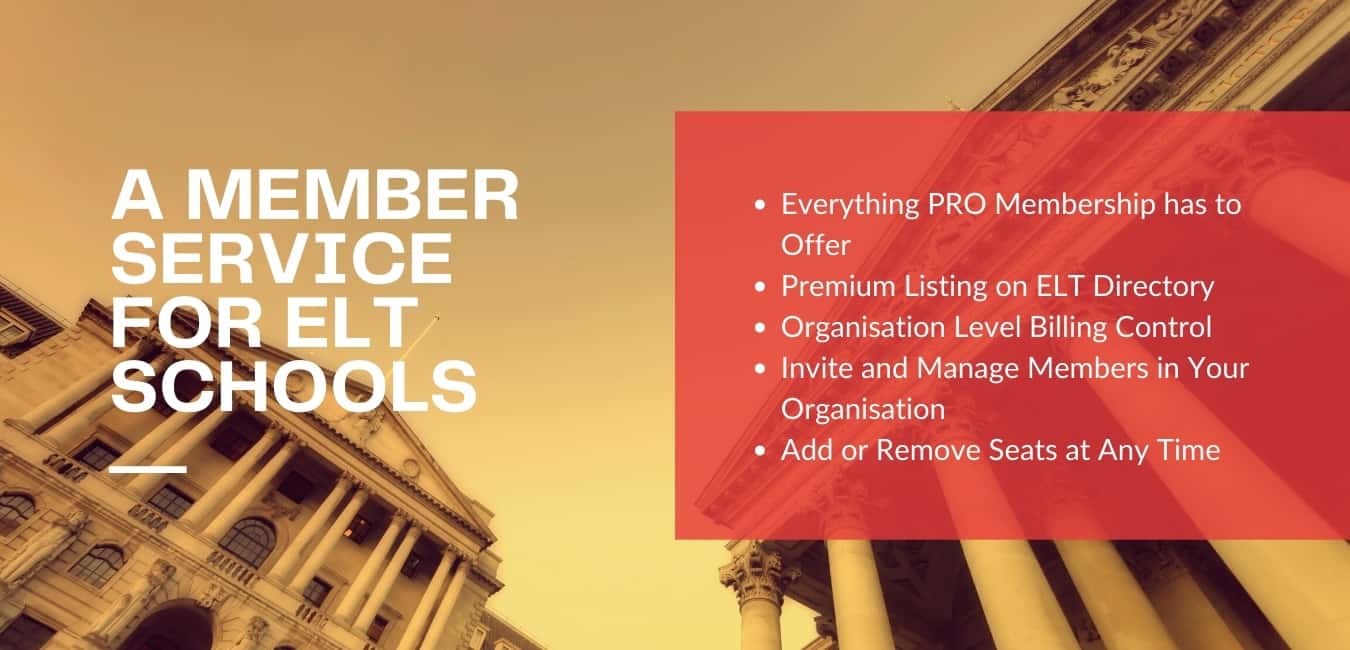 Pricing
---
Our simple annual subscription plan has no hidden charges and all of our fees are advertised inclusive of VAT where applicable. NO PRICE INCREASE PROMISE – You will never be charged a higher price as long as you keep your existing subscription plan.
Organisation PRO
£162 £118 / year / seat (from 5 seats)
Basic Safeguarding Awareness Training With Prevent
GDPR Foundation Course
100+ CPD Sessions Per Year
Access to PRO Member Only Content
Free PRO Member Monthly Giveaway Draw
Discount on Gallery Teachers Products and Services
GDPR UK & EU Representative Service (Band 1 – 6)
Premium Listing on ELT Directory
Organisation Level Billing Control
Manage Members in Your Organisation
Add or Remove Seats at Any Time
12 Standard Job Posting Credit per Year
Credit card required. Cancel anytime to stop future charges.
---
Professional Membership for ELT
Whether you work in a large school or teach one-to-one English as a freelancer, we are sure that you always want to bring the very best learning experience to your students.
As a professional in the education industry, continuous professional development is normally considered a career-long obligation, and it demonstrates your commitment and dedication to employers and students.
With PRO membership, you are connected to some of the best ELT trainers in the world, who would normally be accessible to only a few top English language schools.
There are no other TEFL organisations that provide CPD as broad and as in-depth as we do. When you sign up for PRO, you will have unlimited access to all your essential professional training needs for working with an ELT organisation or operating in a multilingual educational setting.
All of our training and workshops will provide you with exceptional knowledge and a certificate upon completion.