Safeguarding Newsletter – March 2018
Welcome
This is the third monthly Gallery Teachers Safeguarding Newsletter for 2018.
The Newsletter gives some thoughts and reminders about safeguarding in ELT. There are three sections;
general safeguarding topics
classroom ideas; which this month changed from a student-focus to a staff-focus
updates
We hope you find it useful.
Safeguarding students: Everybody's responsibility
Adults and children – and differences
Safeguarding means 'looking after people safely' and covers everything that achieves that. Some ways that ELT schools safeguard their international students:
safe buildings (risk assessments, fire safety, gas safety)
dedicated welfare staff who focus on students well-being, ensuring students feel comfortable and settled during their stay
guidance on living in UK, including information on UK laws so that students don't unwittingly break them!
information about 'staying safe' in day to day life in the local area
explain cultural differences; queuing, please and thank you; there's a lot that could be strange to international visitors
particular support for any vulnerable students, for example those who feel isolated or those who have physical or mental difficulties
ensuring social activities are safely prepared (risk assessments again!) and delivered
being ready to deal with any emergency
and the basics; enough food, warmth, and shelter to support students and allow them study well
ELT schools need to safeguard their adult students as well as their junior students.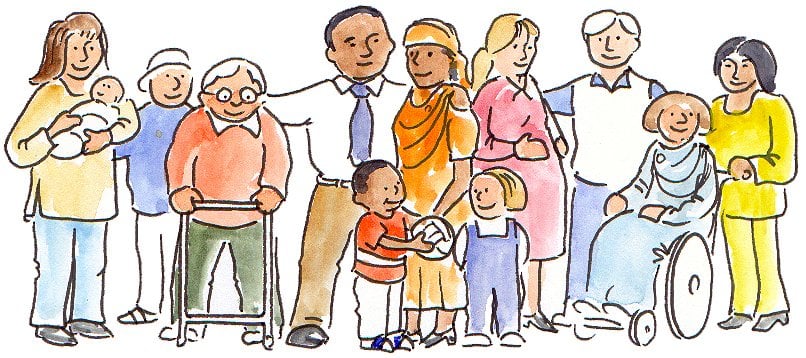 Image Source: http://www.liverpool.anglican.org/Vulnerable-Adults
Schools often use similar ways of safeguarding for every age student, as shown on the list above, but will adapt delivery to be age-appropriate.
However, there are a few differences:
some UK laws change as people get older (for example, being able to drink alcohol)
the 'duty of care' law which applies to students aged under 18. Schools are legally obliged to look after these students effectively, to the same level as 'a caring and responsible parent'
as people gain more life experience, they are better able to look after themselves. But all of us can do with some help sometimes, particularly when we visit a difference country!
Who has safeguarding responsibility in a school?
Everyone. It's not just the welfare staff, or the safeguarding team; everyone has a safeguarding responsibility. Teachers, reception staff, maintenance and cleaning staff, if the school has a cafe – the people working there.
Staff who see students every day, particularly teachers who are with students for several hours every day, are more likely to notice if a student becomes more withdrawn or any other change in behaviour. Students often trust and like their teachers a lot, so might decide to share some problem or anxiety with their teacher. So whilst a teacher's main role is academic, they also have a very important safeguarding role.
As well as all the staff inside the school, everyone attached to the school (the stakeholders) has a safeguarding responsibility; homestays, group leaders, coach and taxi drivers, airport meeting staff and anyone else.
Everyone needs to know a few key things
what the school expects of them in terms of safeguarding
who to report things to
how to report (verbally, online, hard copy)
It is the safeguarding team, the people who have had special training, who have to provide the right information to everyone and deliver it clearly so people understand.
Training and raising awareness amongst stakeholders
Safeguarding training for new staff, homestays and for group leaders is usually part of induction. It often begins with an online course, such as the one sitting here on the Gallery Teachers website, and is then followed with some face-to-face training that goes into more detail and allows the trainee to ask questions, and the trainer to check understanding.
This level of training used to be called 'Level 1', but that title is a bit vague. The title of the training is supposed to say what it is, so this level is often called 'Basic Awareness'. In other words, the minimum that everyone with safeguarding responsibilities needs to know.
Basic Awareness level training can be delivered by members of the school's safeguarding team who have had Advanced Training.
Basic Awareness training needs to be refreshed (not repeated, but refreshed) at least every 12 months. Much better, however, is to keep staff awareness high with continual reminders and mini-refreshers.
Activities to raise safeguarding awareness amongst staff, homestays, group leaders & everyone
The aim is to get everyone to develop a safeguarding 'state of mind', so that safeguarding is something people are always aware of as they carry out their work with students. How can we keep safeguarding in people's minds?
for staff, include safeguarding as an item on the agenda of department or whole staff meetings.
for homestays, have a brief safeguarding section in their regular newsletter
for everyone, share examples of good safeguarding that have come from real experience, i.e. things that have happened in the school
praise people who have safeguarded well, however small the example, e.g. sharing information
give examples of some typical ELT safeguarding situations that might occur for your age students and ask staff/homestays to discuss what they would do if, e.g.

you see two of your 17 year old students drinking beer in a local pub
student teases another student about his hairstyle; the student getting teased doesn't seem to mind
a student who is only just 18 and has now finished her course asks to friend you on social media
Image Source: http://www.all-free-download.com
Notice that none of these examples is a serious child protection issue. Although we all need to be aware of abuse and how to recognise it and respond, most of what ELT schools have to deal with are safeguarding issues.
Updates and developments
New online safety document for children and young people.
'Education for a Connected World' is a very helpful document that provides a framework for what under 18s should know to stay safe online. It is issued by the UK Council for Child Internet Safety, here is a link to their website.
'Education for a Connected World' looks at the various elements of online safety under eight headings:
Self-image and identity
Online relationships
Online reputation
Online bullying
Managing online information
Health, well-being and lifestyle
Privacy and security
Copyright and ownership
It describes the knowledge and skills children need at different ages to navigate their way safely through the increasing complexities of the online world in which they live.
ELT schools are obviously not expected to cover all elements at all ages as a state or boarding school in UK would be. However, it is very useful for the safeguarding team to have some clear guidance on what students at different ages need to be aware of via the list of 'can do' statements.
Maybe the safeguarding team could work with IT colleagues and academic staff to extract key items for the students in their school and decide how best to get the message across to students about safe online behaviour. We have to try and help students in any way possible as they grapple with the fast-changing world of technology.
Reader Interactions